Find this amazingly easy and sweet Indian Crepe's recipe here.
Paatishapta as lovingly known in Bengal, is Indian version of eggless crepe, with a sweet jaggery and coconut filling and is taken along with some liquid jaggery.
This is how my mother-in-law taught me.
Yield: 7-8
Patishapta Pitha Recipe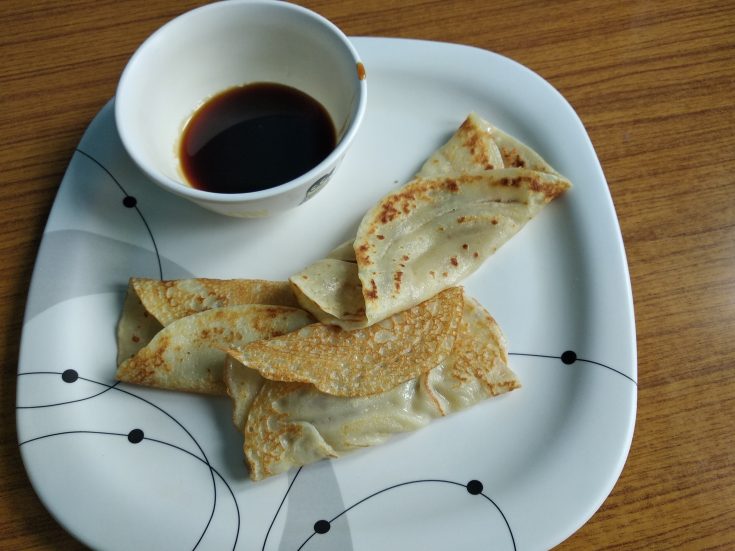 Ingredients
Coconut Jaggery Laddu / Nadu - 1/2 cup
All Purpose flour / Maida - 1 cup
Milk - 1/2 cup
Sugar - 1 Tbsp
Oil - 2 Tbsp
Instructions
Batter Preparation
Take 1 cup of All Purpose flour in a bowl.
Add 1 tbsp of sugar to it.
Slowly start adding cold milk to the flour and whisk it simultaneously.
Pour sufficient milk so as the batter should be able to spread like a dosa / crepe on the pan.
Patishapta Preparation
Mash the sweet coconut balls/Laddu/Nadu and prepare its filling. (If these coconut jaggery balls are not available readily with you, you can also prepare the Nadu at home by boiling some milk, condensing it, later adding jaggery and scraped coconut to it.)
Heat your pan a little. Not too much.
Spread a teaspoon of oil on the pan when its medium hot.
Spread the batter on the pan, like a dosa/crepe.
Once you see the sides of the pitha/crepe are coming off the pan, you can use a dosa/crepe turner to flip it.
The other side will not take very long and is considered done when you beautiful brown dots here and there on it.
Flip it back and put 1 tbsp of the filling prepared in the beginning, in the middle of the crepe/pitha.
Fold the pitha from both sides making it a roll/wrap.
Its ready to be served.