Kids loves Animals, kids love matching and kids love SORTING.
This activity not only will teach kids the basic Shapes but also will enhance their
problem solving skills,
motor skills
cognitive analytical skills and
build their confidence
So, here is the Math Center where these tiny tots would have to apply some mind, do some thinking and match and complete these little Chicks.
5 Activities Included:
★ Cut & Paste of all Shapes' Chicks
★ I Spy (Trace shapes)
★ Clip Cards
★ Posters
★ Make a Book (Trace Names of Shapes)

How to do?
You will get the following 3 activities in this.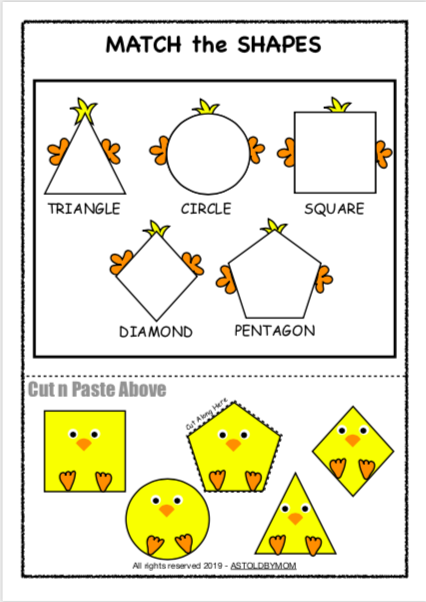 Activity 1
The cut outs which are to be cut are given in the bottom half of the second sheet. Give the cut outs and the first half of the sheet to the students. [Laminate the sheet to improve its durability.]
Students will have to match and paste each baby chick to its corresponding figure to complete the chicken. [In case the sheet is laminated you can use velcro dots].
The name of every shape is also written in capitals below it.
Activity 2
Find the hidden Shapes of the Chicks
Trace the Shapes with a Marker.
Activity 3
Cut out the individual Clip Cards
Lamination is optional
Ask kids to identify the Shape of the Chick shown on the card and Clip the right Shape
Activity 4
Use the Posters to hand around on your display Wall or Boards.
Activity 5
Make your own Book of Shapes.
Trace the names of the Shapes. (Upper & Lower Case both)
Shapes included
Rectangle
Square
Triangle
Oval
Pentagon
Circle
Trapezium / Trapezoid
Star
Heart
Diamond / Rhombus
It can be a fun activity for Easter Theme too.
Download
You can go to my TeachersPayTeachers store or Download this Activity directly by Clicking the button below.
Go ahead and download yours today.
Want More?
I know you want more. If you are looking for more activities like this…Here they are:
If you want to AVAIL some DISCOUNT, Go ahead and this Complete Bundle here
and MORE….
Download the template DISCOUNTED Bundle with few Bonuses right here.
Hope you enjoy this task.
Have a great day.