Wondering how to involve your tiny little ones in the Easter spirit. Just go ahead and download this free Easter Pack of Tracing & Colouring Printables for tots, toddlers & preschoolers. Connecting the dots is the first favourite activity on paper for any toddler. They just enjoy connecting the dots, tracing images and above all colouring them. After all, that is how a human being learns things initially, by seeing and following.
What's a Tracing & Colouring Activity?
It's the favourite activity sheet for every toddler. The tracing sheets consists of a dotted image/figure which kids will have to complete and then colour. Children love to follow and connect the dots and tracing activities. These are some first few activities to develop a kid's grasping skills.
This "Easter Pack – Tracing & Colouring" bundle consists of 5 sheets: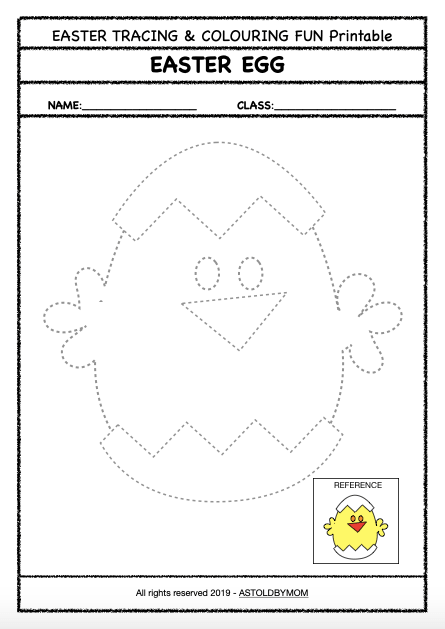 All these viz. Easter Rabbit, Easter Eggs, Chicken hatching from an Egg fills kids with the lovely Easter spirit and joy. They would love to participate and connect more with the celebrations.
What do you require?
Adobe PDF reader – to view and download the printables.
Colour Printer & A4 Sheets – to print
Marker/Pen/Pencil – for the kids to draw and sketch.
Colours
Small Pom Poms [optional] – for further decorations of the objects
How to Use the Printables?
Once you have downloaded and successfully printed all the pages, you can give the sheets to the kids one by one with a little explanation about the object on the sheet. It helps the kids to understand the activity and its importance better. It also helps them to relate with the real world.
Tracing – Now ask your kid to join the dots and trace the object.
Colouring – Once they have finished tracing, you can ask them to choose colours according to their wish or follow the little reference image and identify and colour according to it.
You can use some small cotton balls or small pom poms also to decorate the objects more and more and make it more interesting.
Later you can just file them or ask the kids if they want to Pin and Put up the sheets on their board or fridge or wall to keep up the festive spirit.
Download here…
Click here to download the FREE Easter Tracing and Colouring Printables
Hope you have fun with your kids. Please do share your experiences, comments and suggestions below.
Happy Easter.