Oh yeah, I am HUGE fan of the sitcom series "Friends" and this series has helped me pass through my postpartum depression. Watching the episodes then, helped me keep my mood swings and depressions lighter with happiness and satisfaction.
Being a huge "Friends" fan myself, I would love to post this rare coincidence on the account of 25 anniversary of "Friends".
UNNOTICED FACT #1
Anyone who has watched "Friends" are well aware of Phoebe (Lisa Kudrow) had chose to be surrogate mother of her borther Frank Buffay Jr. (Giovanni Ribisi) and his wife Alice's children.
But the fun fact is here. This would have gone unnoticed by many viewers unless they have binged the series at least twice to notice that, Phoebe's brother Frank Jr., Phoebe and Rachel had a scene together in the beginning of Season 2 itself.
This is the scene from Episode 6 of Season 2 – "The One with the Baby on the Bus" where Phoebe sits outside the 'Central Perk' Coffee House, playing her music and sharing her emotions with her friend Rachel for being replaced by the Coffee House for some other professional musician.
While Phoebe is telling Rachel about the money she has collected doing this, she says someone has tipped her a condom (thankfully unused) also.
And then this guy (Giovanni Ribisi) comes in asking for his condom back which he had accidentally put in Phoebe's case.
So, apparently Giovanni Ribisi was initially an extra in "Friends" but later the producers decided to put work with him more and giving him the role of Frank Jr. later.
UNNOTICED FACT #2
Another person who has made her appearance in this same series but as a different person is Estelle (June Gable), yeah… that's right, Joey's agent. She has earlier played the role of nursing staff in the hospital where Ross has his baby, Ben.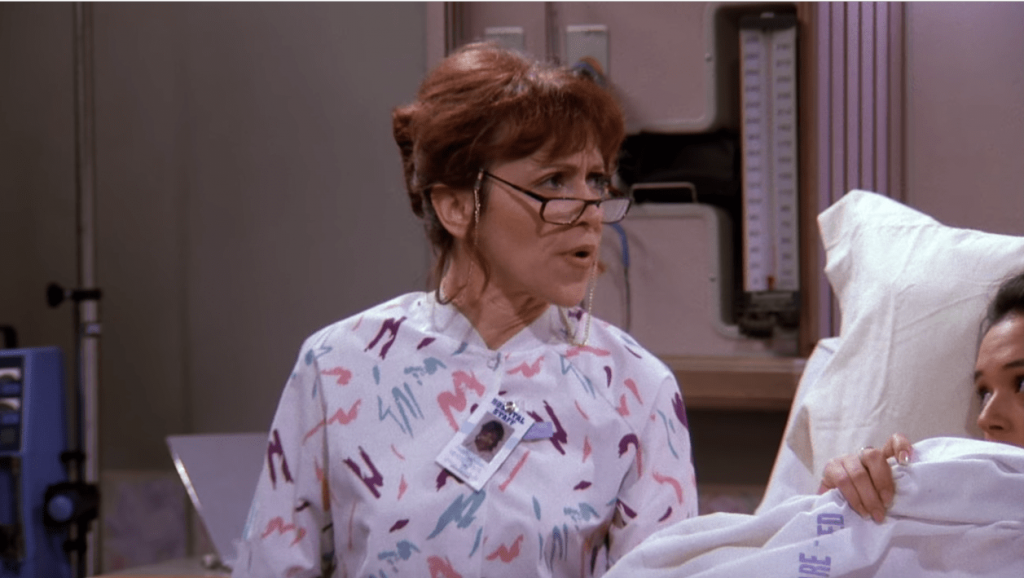 This is the scene from Episode 23 of Season 2 – "The One with the Birth" where this nurse first helps one pregnant women along with Joey and then helps Carol too with the birth of Ben.
And then reappears as Estelle, Joey's Agent later in the coming episodes of the show.
Of course there were many extras and many special appearances of Lead Actors and Actresses of Hollywood in all the seasons of this epic of "Friends" but, these two had quite some good luck with them I guess.
Loving and Cherishing "F.R.I.E.N.D.S". Always.
A tribute to #FRIENDS25.