Making a Duck Pond was today's task of me and my little one. And the best part of it is it's very easy and requires minimum of things to do.
So this is what we made. And all the papers/sheets that were used are from papers scraps and cutouts which I keep storing for later crafts.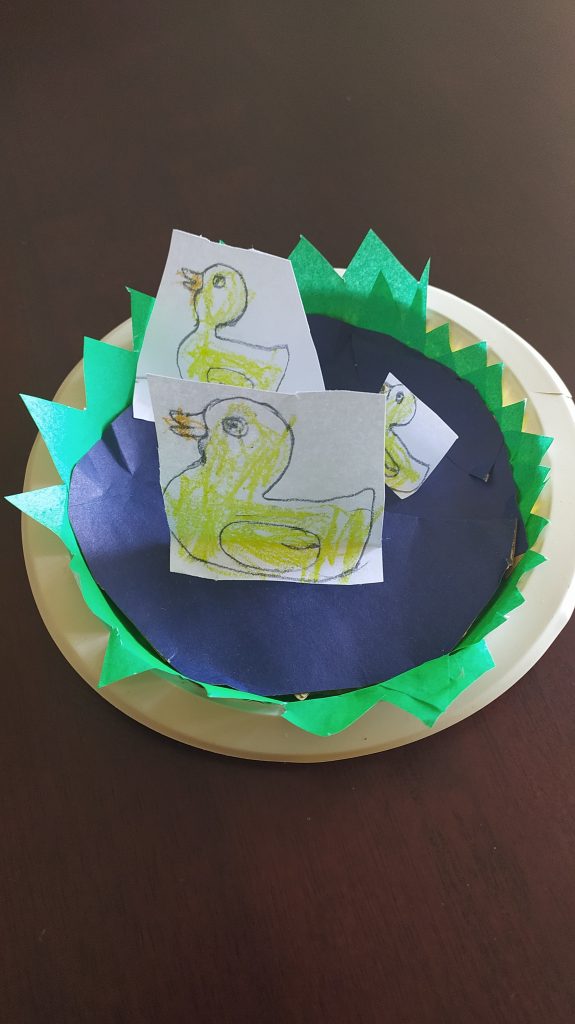 Benefits
I really liked this activity because
Firstly my son enjoyed it
Second, it becomes a cute little center piece.
And this, it requires minimum of the things.
And last but not the least, is full of creativity and imagination which every kid loves.
Preparation
Materials required are:
A paper plate
Duck templates to Color
Colored papers (Blue, Green)
Scissors
Colors
Glue
Step 1 – Draw or Color the Ducks and Ducklings. Can be done by kids.
Step 2 – Cut out these Ducks. Can be done by kids only if they are comfortable with scissors.
Step 3 – cut the blue coloured paper in a circle equal to the size of your plate.
Step 4 – Now cut the green coloured paper as shown. (Like a crown.)
Now go ahead, and give the creative muscles of your brain some task to do.
Why should you do this?
It's a legit question why should you do this.
I used this craft work of my kids to do sing-along of 5 Little Ducks. Hmm, lemme think for some more ideas.
With a little bigger kids, Kindergarten or of Grades 1-5, you can ask them to do that story of "The Ugly Duckling".
Or in case of more than 1 kid, you can ask the oldest among them to tutor the younger ones with these Nursery Rhymes or Stories.
Once made successfully, using these as props you can teach them to count.
Or introduce the concept of Addition and Subtraction using the 5 Little Ducks Nursery Rhyme.
Hope you have some crafty fun.