A fantastic math center activity for kids from Class 1 onwards.
Clues will be given in a table. And take multiple print outs of the Mystery Cards to be solved. The same can be applied to more than Mystery Cards.Children has to solve the clues given in the table in order to get the MYSTERY Halloween picture.
A fun and curious activity to pose the children with some Math Challenges.
The Mystery Cards solutions include :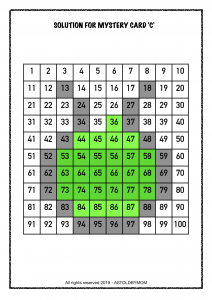 The clues include:
Before & After Numbers
Above & Below Numbers
Hints
Spike Abacus
10s Place & 1s Place Digits
Rods and Blocks
Download
You can visit and download it at my TeachersPayTeachers Store
or go directly to Halloween Place Value Mystery Cards Activity here
Other Halloween games and fun activities you might be interested in are:
– Complete Set of Halloween Games and Activities (Alphabet Pumpkin Puzzle, Lacing Cards, Memory Game, Maze, Compound Words Pumpkin Puzzle, Popsicle Stick Number Puzzle, Phonic & Tally Marks Candy Corn Puzzle, Place Value Mystery Cards)
Also,
– Shapes Matching – Chicks & Frogs Puzzles
– FARM Animals Shapes Puzzles n Craft Activity
– Whole Bundle of Number Egg Puzzles
– Whole bunch of Animal Shape Puzzles
Stay In Touch
Follow me on my TPT store by clicking here.
Follow @ Pinterest
Like us @ Facebook
Follow @ Instagram