Today me and my son had a fun activity of practicing English Upper Case Alphabets with Popsicle Sticks.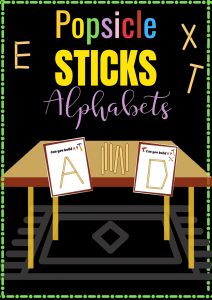 This activity will help children
Alphabet Recognition Skills
Gross Motor Skills
Directions
Creative and Analytical Skills
Problem Solving Skills

One can extend this activity to do the following.
Popsicle Sticks NUMBERS
Popsicle Sticks SHAPES
Popsicle sticks can be a very easy and handy way to teach kids to form Numbers or Basic Shapes as well. You can go through my this previous post of making Numbers with popsicle sticks here.
Children can do this fun project and can also learn how just with 7 straight lines all the english alphabets and all the numbers in the world can be made. This will in turn make them understand how the digital display of alphabets or numbers is made.
Alphabet FLASH Cards
I have also created these Number Building FLASH CARDS / Task Cards.
Step 1– Get these Upper Case English Flash Cards here and get Creative with Popsicle Sticks. Or you can download the FREE printable of Popsicle Stick Numbers here.
Step 2– You can them printed and cut the Task Cards out.
Step 3– You can ask your kids to form the alphabets now on their table tops or any smooth surface.
Note: The formation of the alphabets G, J and S can be a bit confusing for little kids. An adult's assistance may be required.
Have a great day!