Being a book's fan myself, I almost bought & collected all sorts of Alphabets books for my little one. Almost since his first Birthday, I had a huge collection of Alphabet Books;
-Big Book of Alphabets,
-Books for Tracing,
-Alphabet Pocket books,
-Alphabets Fridge Magnets,
-Alphabet Shape Sorters,
-Write & Wipe Cards with Initial Sound Objects and
-100s and 1000s or Printables from TeachersPayTeachers or
-from Homeschooling Kits.
And you will agree that almost 50% of these come with Practicing tracing or Writing in them, right!
But the most depressing thing with me was, even though my son seemed smarter enough but he never showed any interest in writing practice or tracing. And being a homeschooling mom, my worries were at peak, until I found this amazing challenging task for my little one.
He one day, on his own, somehow started writing letters on our whiteboard with a marker. Then taking that a cue, I started teaching him on the board itself. But later he started getting distracted on the board too easily, and would start drawing or just scribbling on the board.
And then one sudden day, I made him a few boxes with my marker on the board and asked him to write the letters of his name in the boxes drawn, one by one. He, to my surprise, found this task challenging and he liked it very much. And form then on, now whenever I ask him to write, I draw such boxes (sometimes dots for tracing alphabets too) and I just ask him to go ahead and fit the letters and words and practice writing this way.
So, not only now he is practicing he is also learning to pronounce them.
So, here are my amazing Printables of the first CVC words which I made for my kids to practice their Writing and Reading skills along with the image of the object they are reading or writing. You can teach them how to pronounce the sounds also while they learn and notice each Alphabet in the word.
The family of CVC words are
_ab Words
cab, dab, gab, jab, lab, nab, tab
_at Words
bat, cat, eat, fat, hat, mat, pat, rat, sat
_ug Words
bug, dug, jug, hug, mug, pug, rug, tug
_un Words
bun, fun, gun, nun, run, sun
All the words set to practice are available in both Upper Case as well as Lower Case English Aphabets. You will get more families of words very soon. So, be in touch.
Follow me on TeachersPayTeachers
Follow on Pinterest
Follow on Facebook
Follow on Instagram
What you'll get?
These images are just samples, they are available for the the CVC word families prior mentioned.
In all word families you will be getting
DIY Book of CVC words in 2 different difficulty levels.

with Tracing help
without Tracing assist

Flash Cards
Picture Puzzles
Odd One Out.
Making Word Tulips
All activities are available in both Upper Case and Lower Case words.
Each word can be practiced in many different ways according to the resources available and the willingness of the child.
Reading the word (Image is shown for help)
Coloring the alphabets.
Writing and Tracing on the lines.
Writing in the boxes.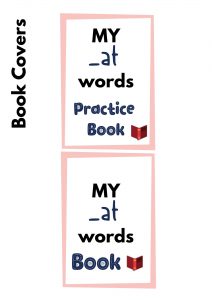 Not to forget, you will also get these book covers in this printables. Using them kids can make their own word family books.
You can laminate the sheets after printing and cut the individual word blocks and tag them later with these book covers and give it to the kids to Write & Wipe & Practice.
Preparation
It's a no preparation Print n Go activity.
Download
Cut the individual word blocks [Optional]
Laminate [for Durability & Reusability]
Bind or punch some holes and tag them as a book [again optional]
Download
You can download this Printable from my TeachersPayTeachers Store here. You can also Follow me on TeachersPayTeachers to stay updated with my latest Math & Literacy Centers, Activities and Fun and Novel Games.
Or Get the Complete Bundle here
You can either download each word family individually or get all the word families together in my CVC Words family Bundle with huge discounts.
Click on the images to download.
You might also be interested to check this Train Themed Math and Literacy centers for Alphabet and Numbers Practice or Word Walls or as beautiful Colorful Posters.
I am sure you are gonna have lot of fun with this activity and your kids gonna love them for sure. As I said earlier,this is still work in progress and you will be finding more updates on these very soon.
You may also check out my Spring Collection of Alphabets & Phonics.
Any suggestions are most welcome and appreciable.
Download these and have fun.
Stay in touch for more…
Follow on Pinterest
Follow on Facebook
Follow on Instagram