Popsicles are the most easily available craft item which if you store every time after having a popsicle you may not even have to buy them from a craft store. And here I have curated many ideas of putting them to some creative use.
As a craft teacher myself, I guarantee that these are one of the best and easiest crafts for the kids to make and best way to keep them occupied all day in their summer break.
They are mostly preferred by teachers to create some fantastic stuff for their kids:
Another super fun activity I played with my kids was this Shape Detectives Game. Just with some Shape Cutouts & Popsicle Sticks, my kids had a gala time playing this.
Check this super fun game here.
Popsicle Sticks can be used also for home decor purposes like:
Pen Stands
Wall Mounts
Message Boards
Mobile Stands
I first time found their use when I prepared my Christmas Tree decorations and ornaments. They were so easy to handle. They brought out amazing stuff to be out on our Christmas Tree. Let it be a
Activities
Have you ever wondered how to a build a simple catapult with popsicle sticks. Here's how.
Animals
One of the easiest animal crafts whether they are fro narrating a story, or for a bookmark or when introducing animals to the kids, these crafts serve a great deal and definitely help a lot to parents and preschool teachers.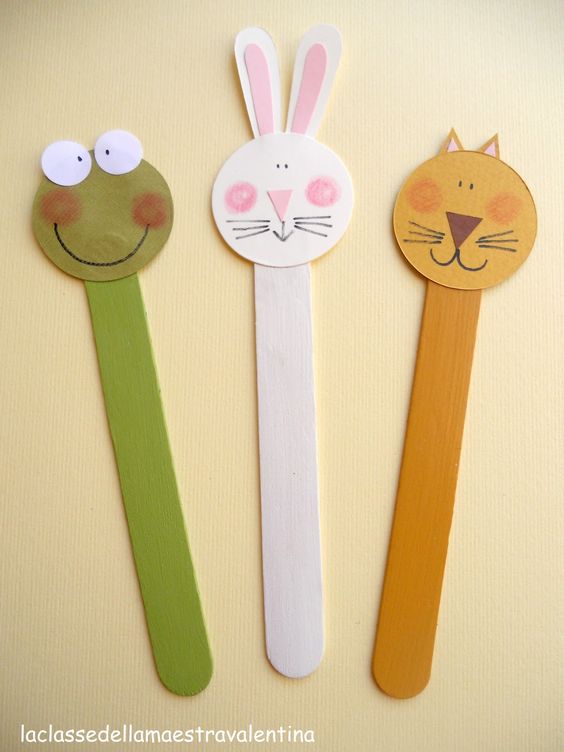 A simple way to create some cute animals with just colourful popsicle sticks and circles cut out of the different coloured papers. Found here.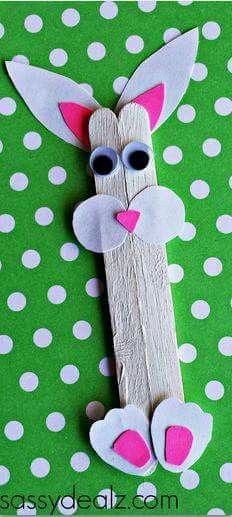 Check these cute bunnies out here.
Then there are some scary little crocs here.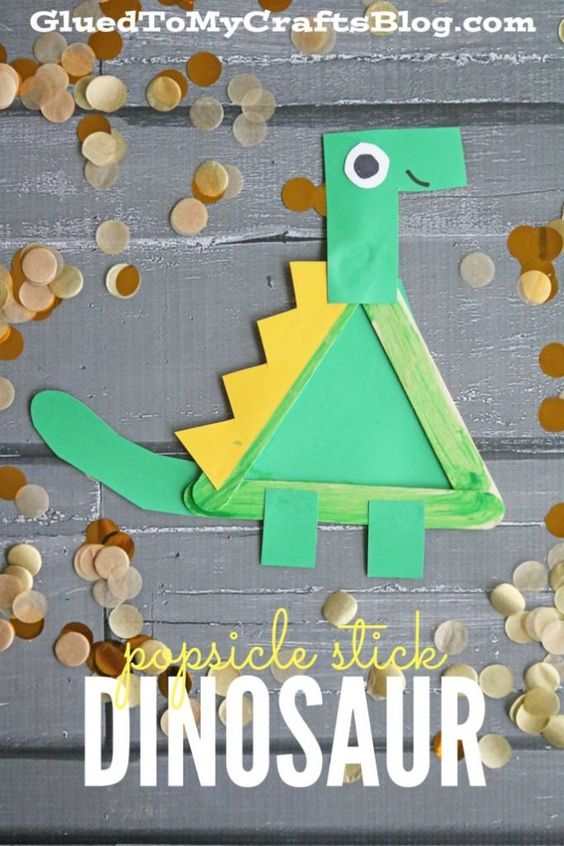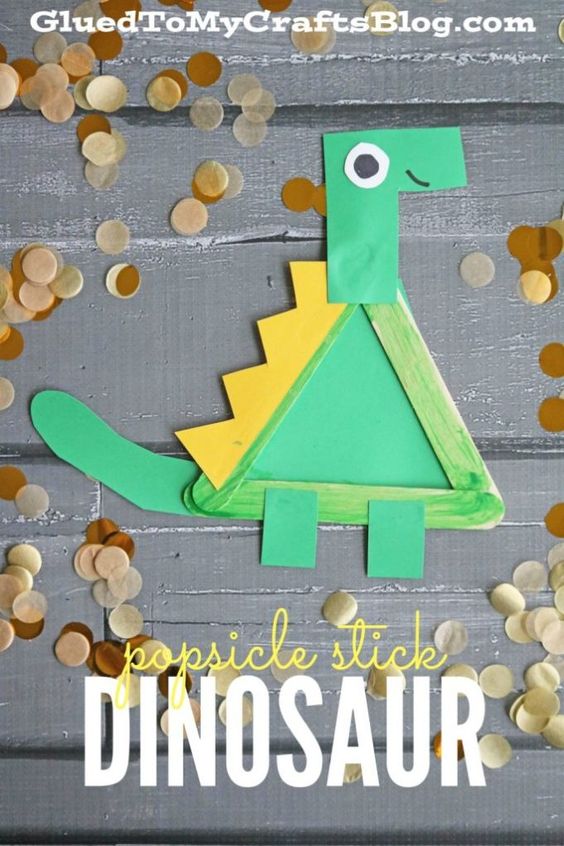 Yeah…why not a dino. In fact it seems so easy. Found these dinosaurs here.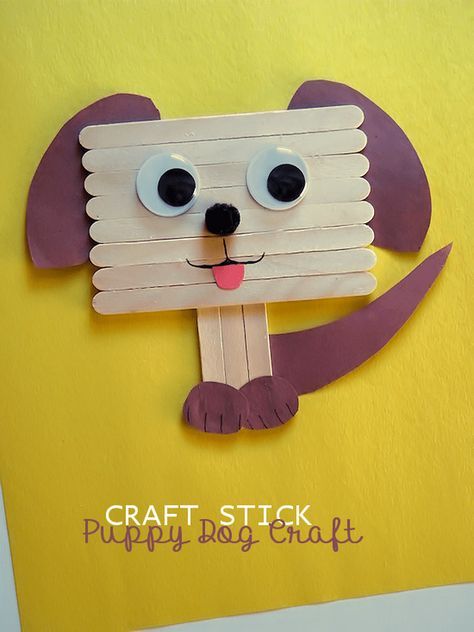 Now this adorable dog found here is a cute little dog whom no one can say no to.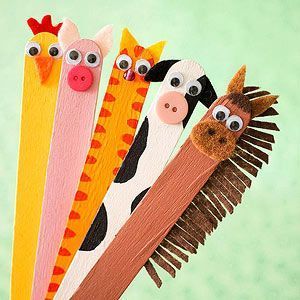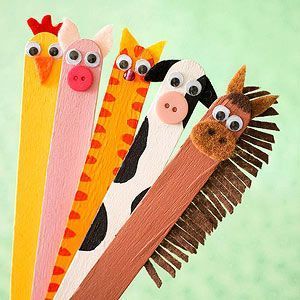 Here are some old Mc Donald's farm animals. These small little animals come in very handy when reciting the poems or short stories to toddlers and kids.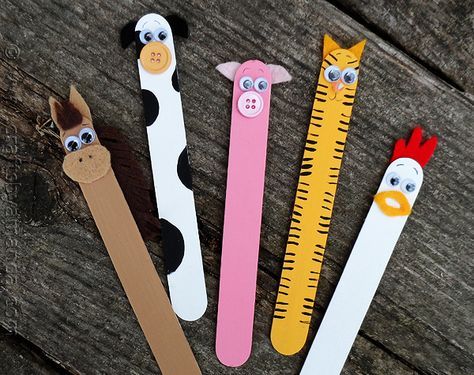 Now here are some farm animals with popsicle sticks, buttons and googly craft eyes found here.
This fish craft was so easy to prepare, and my son loved it when we prepared it. He just turned 2 then but he loved making it. Found this idea here.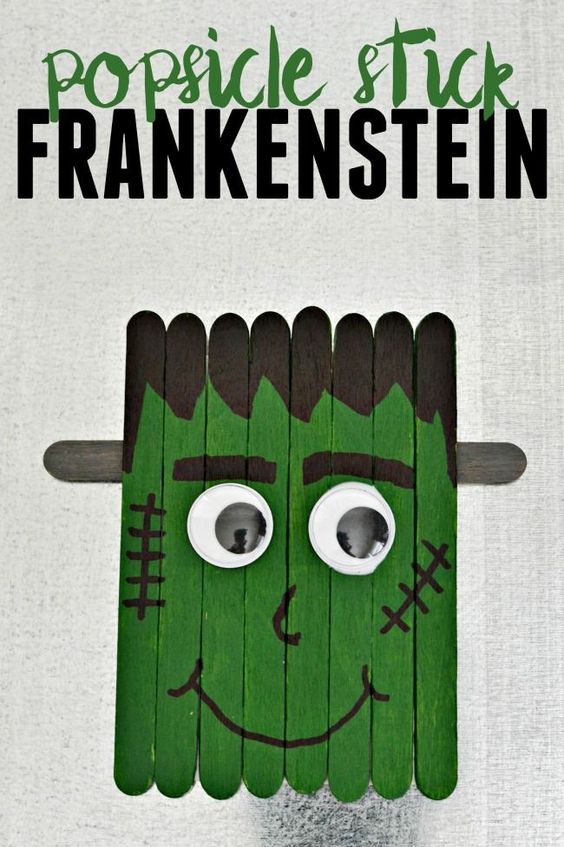 Using more than one popsicle sticks, you can make Frankenstein.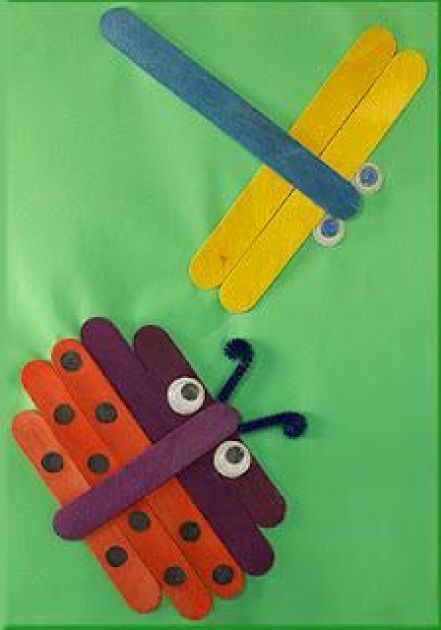 Yes that's right, some garden insects, found here.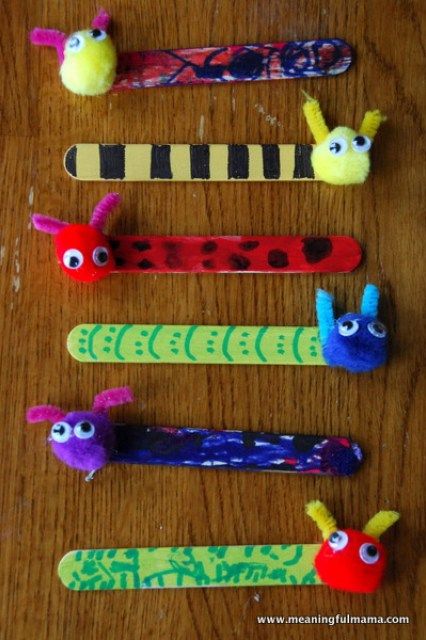 These are garden animals bookmarks prepared by little fellows here.
Here are some interesting dragon flies using craft pins and popsicle sticks and colours of your choice.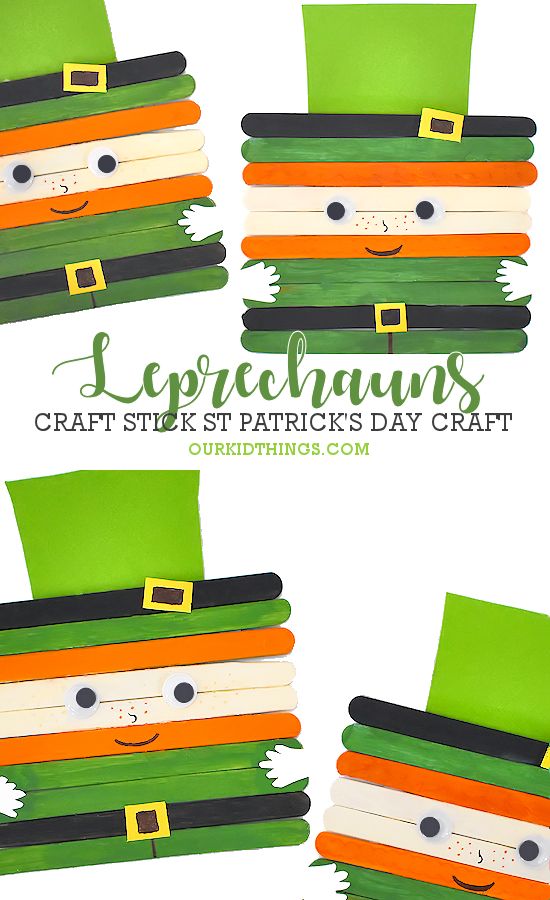 Great ideas for some interesting popsicle sticks leprechauns can be found here.
A garden lizard can also be made using popsicle sticks and some straw cleaners and googly eyes and colours.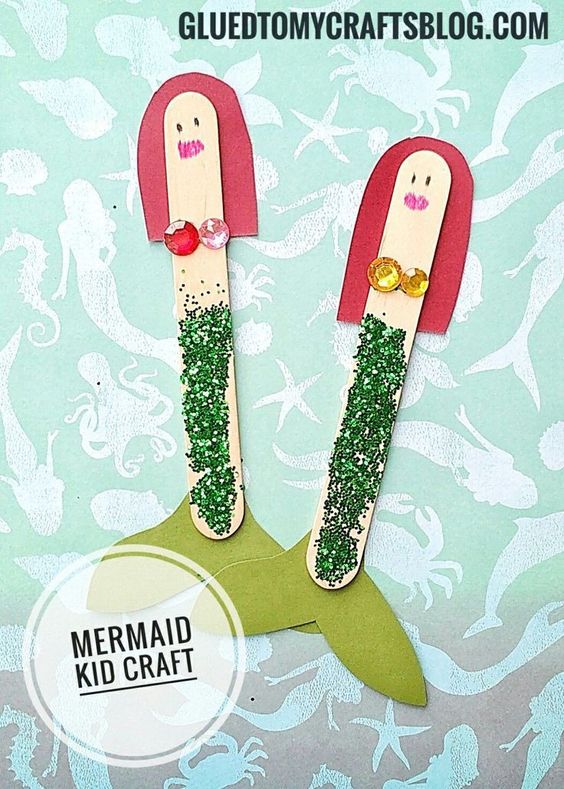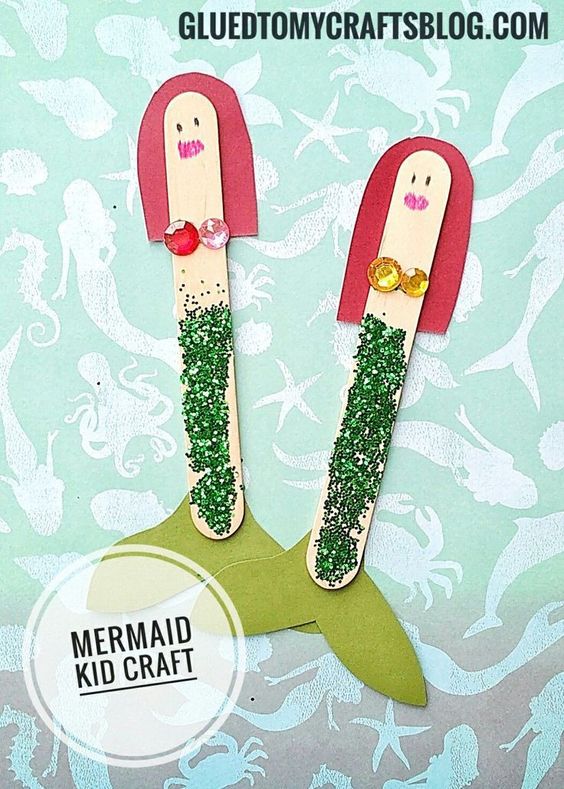 Yeah, a must do kid craft is making these small little mermaids. I found this here.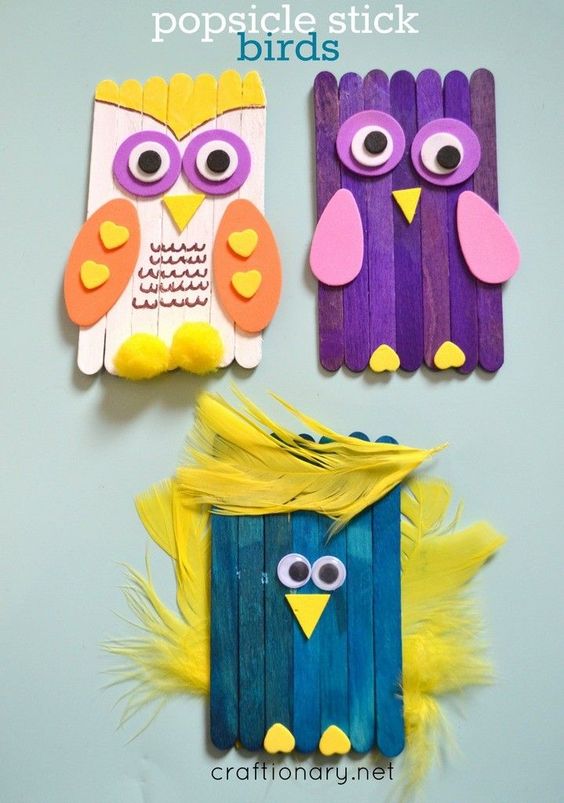 Using some popsicle sticks, glue, feathers, foam cutouts a fantastic way to prepare these birds can be found here.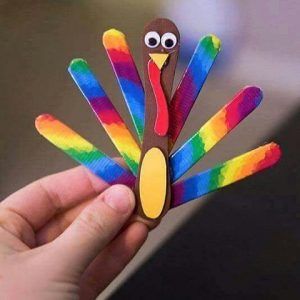 A nice colourful bird made out of popsicle sticks can be found here.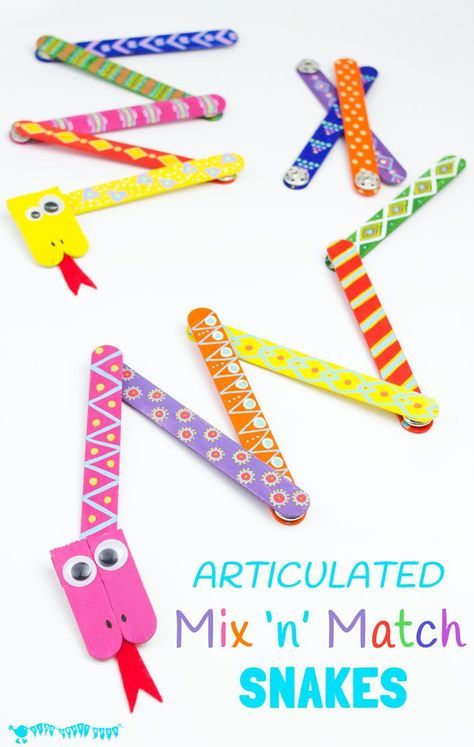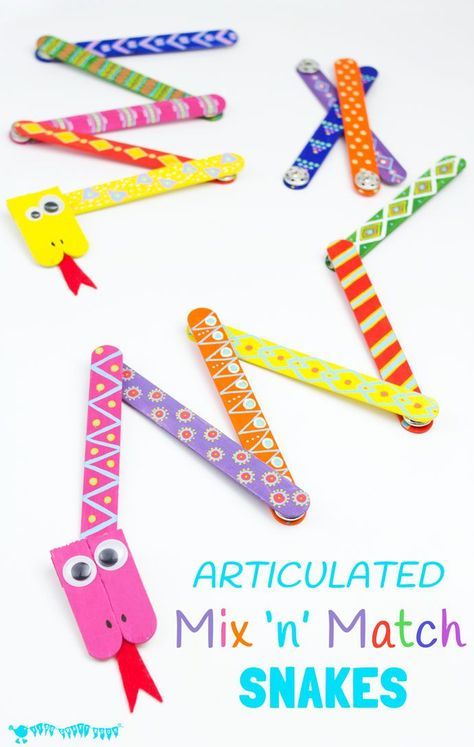 A nice articulated colourful snake can be made by using popsicle sticks and velcro dots. Instructions here.
Step by step instructions to make this black popsicle stick spider can be seen here.
Found this unique idea here, has definitely impressed me where by using muffin cups and simple paper cut outs, an interesting turtle was made. You may replace the green legs of the turtle with some popsicle sticks also.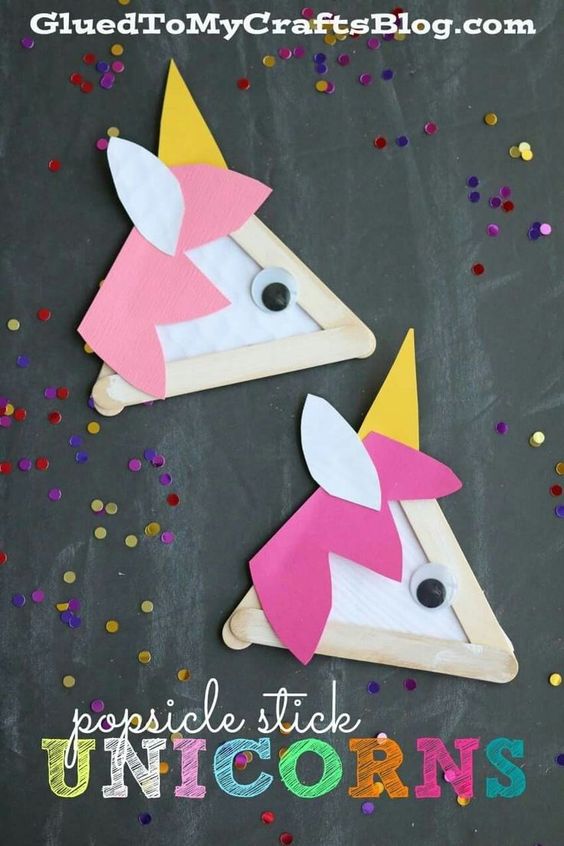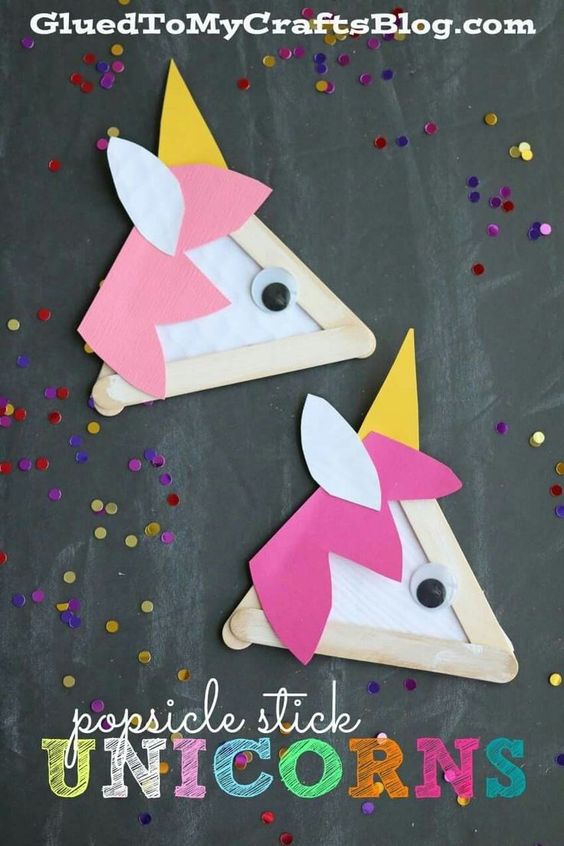 Found these great popsicle stick unicorns, using polymers and crafty eyes here.
Christmas Crafts
The first thing that comes to our mind on hearing Christmas is undoubtedly the Christmas Tree and with it comes the huge task of decorating it with variety of decorations and ornaments. Have you ever thought that popsicle sticks can be very helpful in this.
Whether it's a star, snowflake or snowman, little Santa, reindeers or elves or XMas tree itself, everything can be created using the popsicle sticks.
Now its upto you to how colourful, glittery you can make them and decorate your X-Mas tree and house and celebrate.
Little Christmas Trees
Making little Christmas trees can be fun filled satisfying craft for our little kids, preschoolers or for our own selves. These nice little Christmas trees can be hung around and decorate the walls or the doorways or may be given away along as a Christmas party's return gift.
The steps to create these nice and easy little xmas trees are beautifully illustrated by ourLittleProject.
Found this easy peasy popsicle stick xmas tree at alittlecraftinyourday.
X-mas Stars
No Christmas celebration is complete without Christmas stars hanging around. Now here are the best colourful easy to make Christmas stars out of popsicle sticks.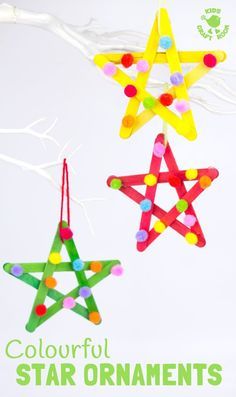 A colourful pom pom star can be easily created by anyone whether you are 2 year old or 50 year old with step-by-step guide on how to make it.
Don't you worry if you have glitters or some shiny sequence. It can make your star even shinier. Idea from livemaster.ru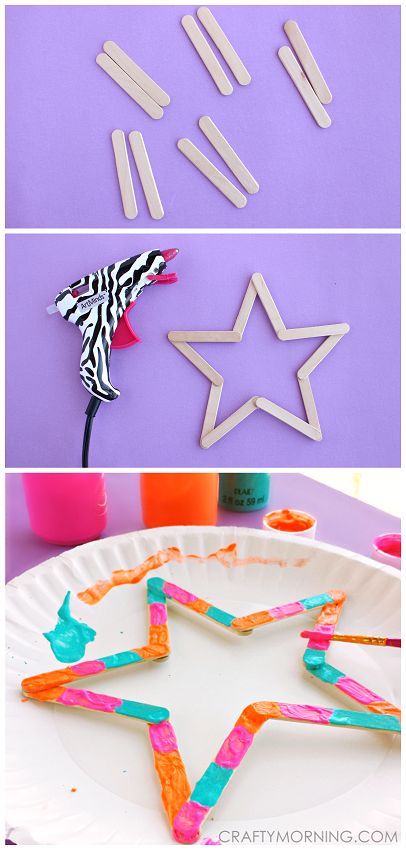 If you are a paint lover, like my son, you can just do by painting it also. Use vibrant colours like this, and you can create a perfect ornament for your christmas this time.
Aad here are some glittery stars for decorating your tree. One can paint the popsicle sticks with glue and sprinkle some glitter on it. Or can put a glittery/shiny washi tape on the sticks and you are good to go.
X-Mas Ornaments
The easiest popsicle stick crafts are for usually for Christmas, which are mainly to create these beautiful little cheerful ornaments for decorating our Christmas trees.
Found at thekeeperofthecheerios.com, these easy to make popsicle Christmas crafts are great for all ages of kids. It can be fun to make them in a Christmas party or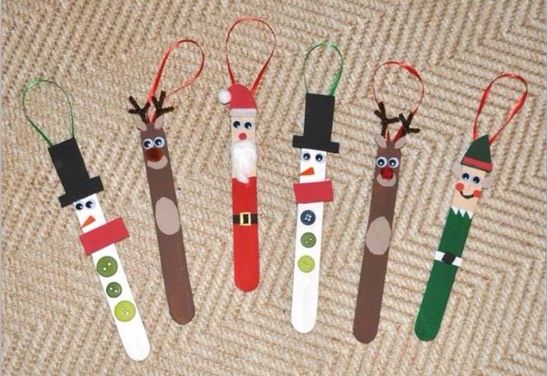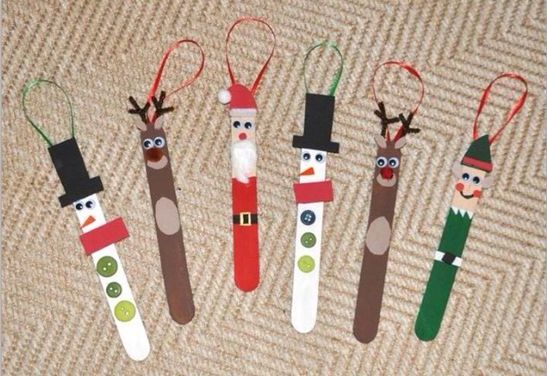 These were some small simple ornaments which my students did at our Christmas Party.
A very interesting and super easy Christmas ornaments can be found here.
The above are some interesting and easy Christmas ornaments of little elves, Mr.Gingerbread, Reindeers and snowman by using paints, buttons, ribbons, pipe cleaners and pospsicle sticks are from here.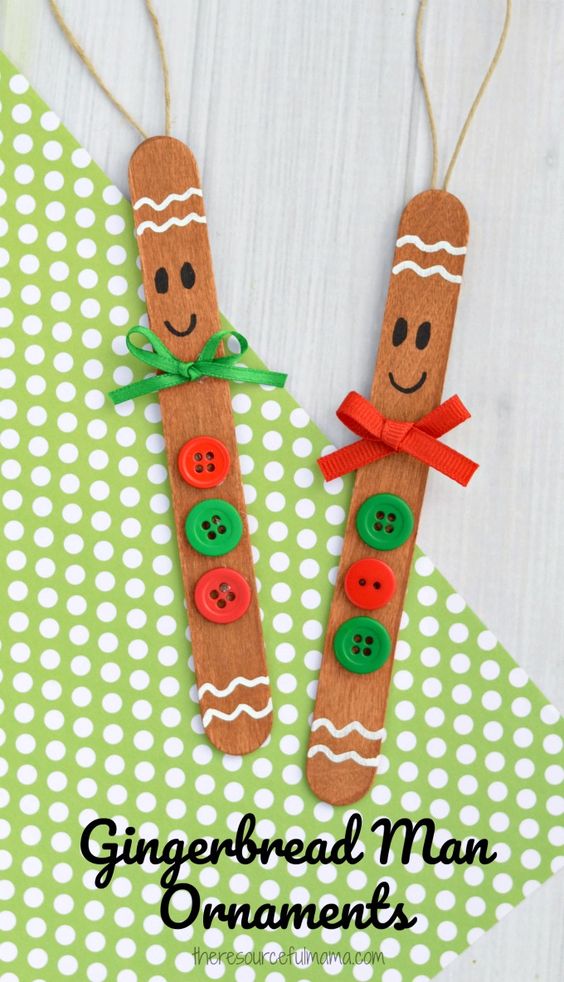 These are some easy Gingerbread ornaments for your Christmas tree as seen here.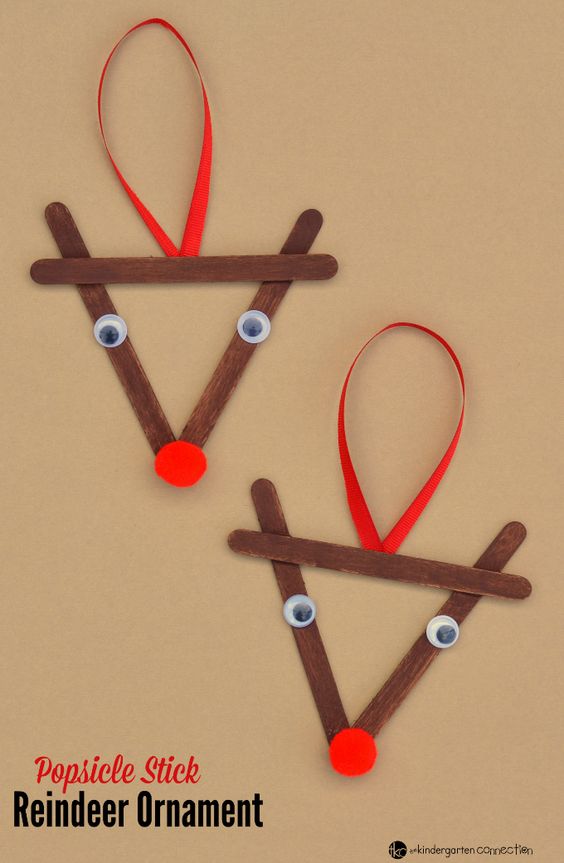 A very lovely Reindeer popsicle craft found here.
An easy snowman and other Christmas crafts for children here.
Snowflakes
Out of the many brilliant snowflakes crafts, these are some of the easy and best ones.
Learn how to make these super cute snowflakes here.
Or you can try these white snowflakes made by kids here.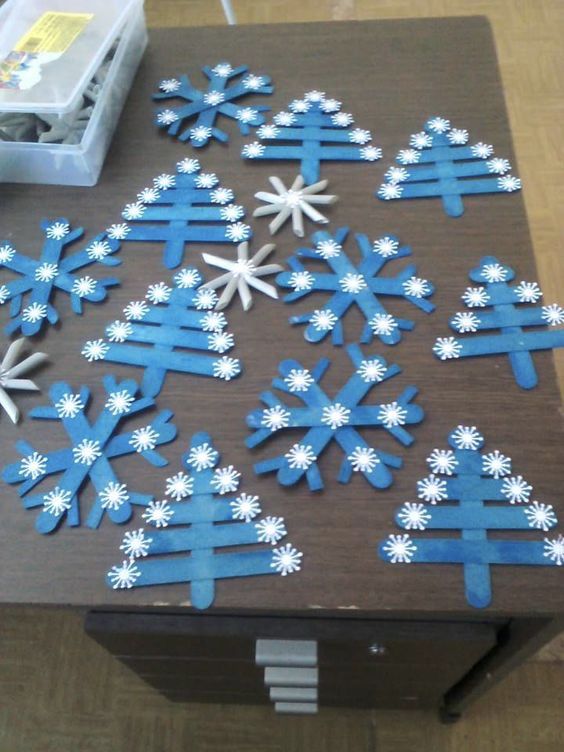 Now how about some blue and white snowflaky Christmas. Found this inspiration here.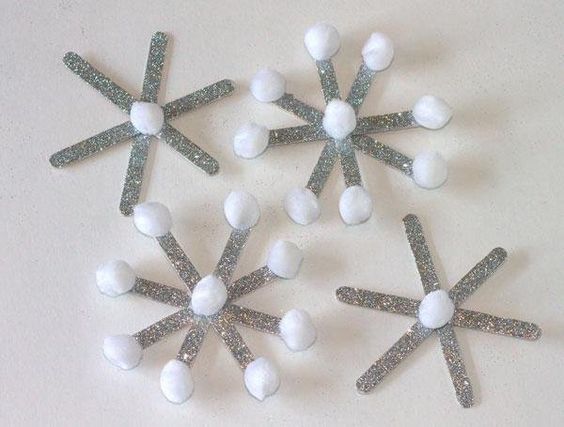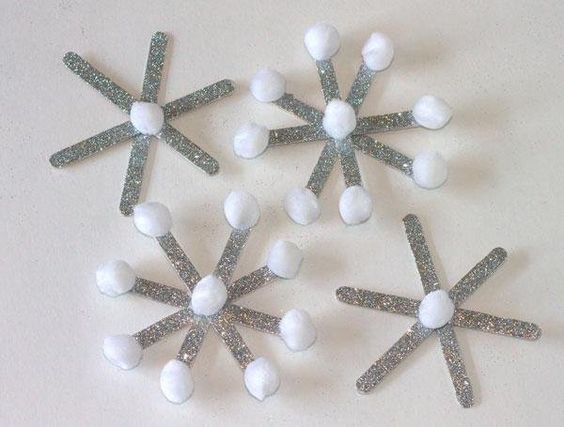 Or with simple silver glitter and white pom poms by sheknows.com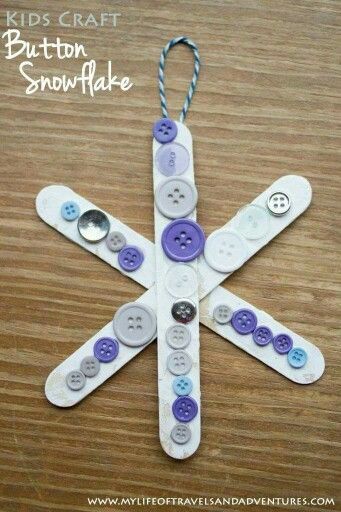 If you are out of paints or glitter, how about a simple button snowflake.
Or a decorated button snowflake like this.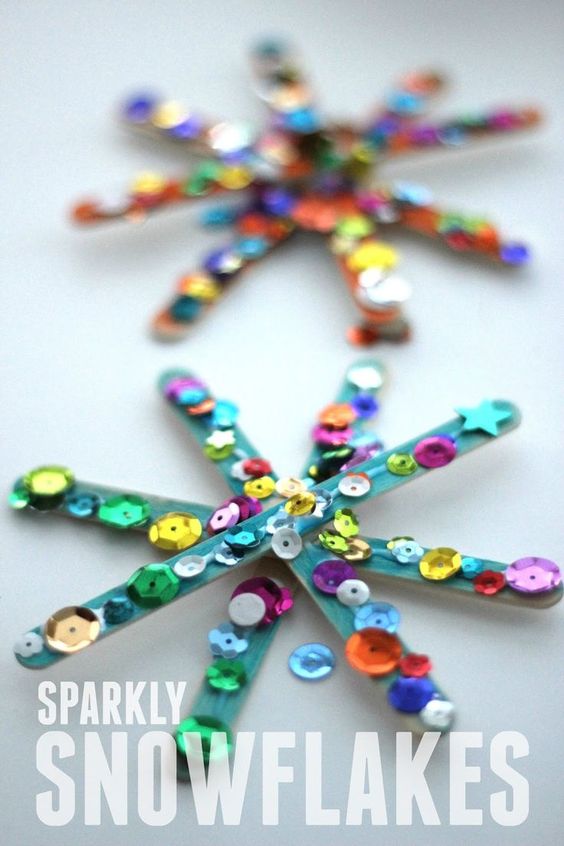 How can we miss this sparkly snowflake by toddlerapproved.com.
Home Decor
Photoframes
Just by using these simple popsicle sticks, beautiful and highly creative DIY photoframes can be made with ease. It can be a great craft for home improvement with a personalised touch too.
Some beautiful popsicle stick photoframes with some artificial flowers to enhance their beauty even more.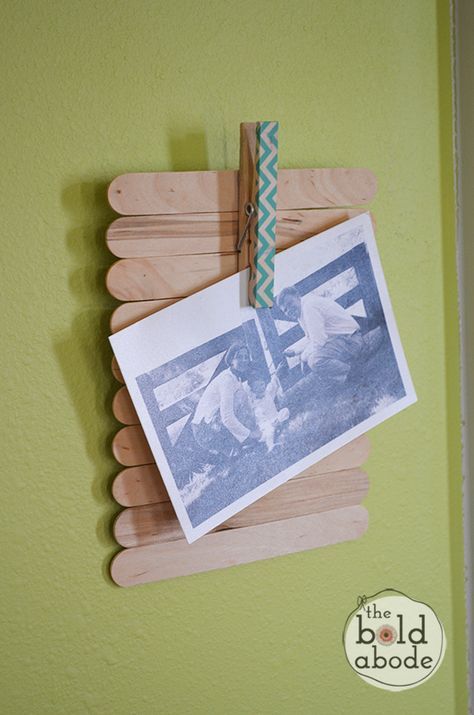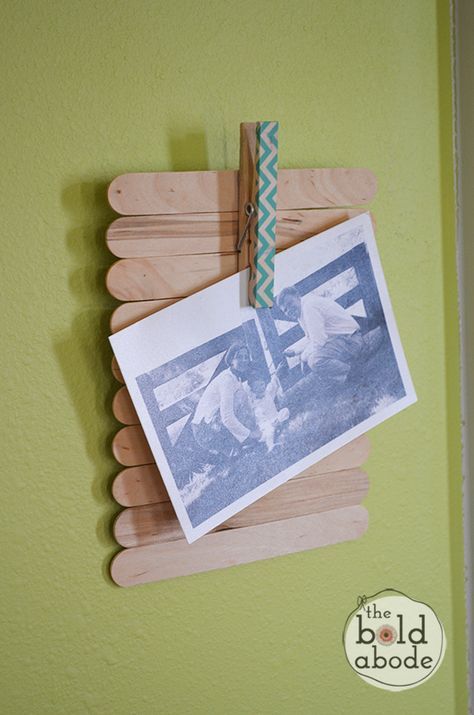 A fantastic and easiest most elegant looking DIY photoframe which could be ever made of popsicle sticks and just a clothespin. Found here.
Now by using washi tapes and popsicle sticks, and interesting wooden objects, some more colourful versions of photoframes can be made. This idea was found here.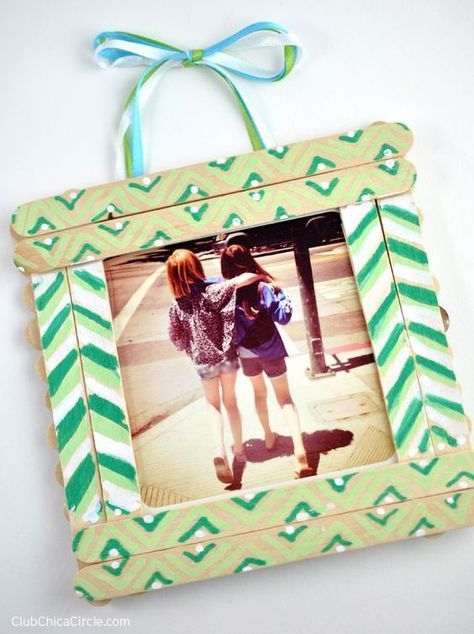 Another superb way of making popsicle stick photoframes by using paints and glue.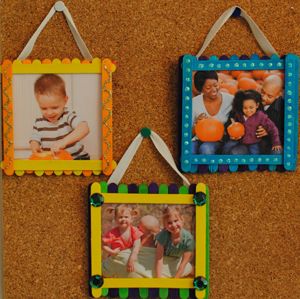 Another way of decorating popsicle stick photoframes can be seen here.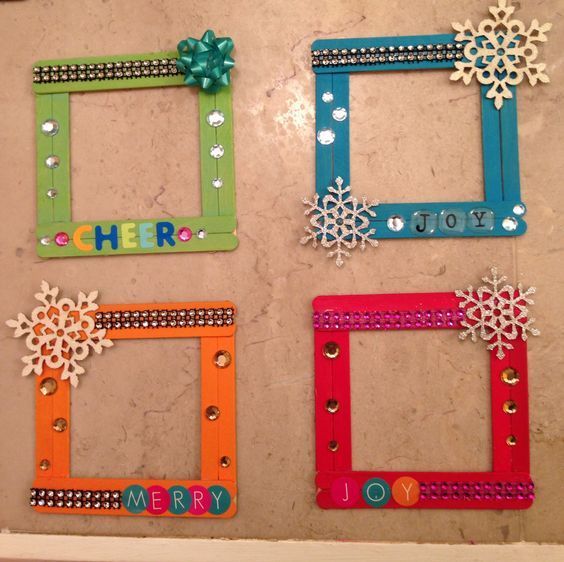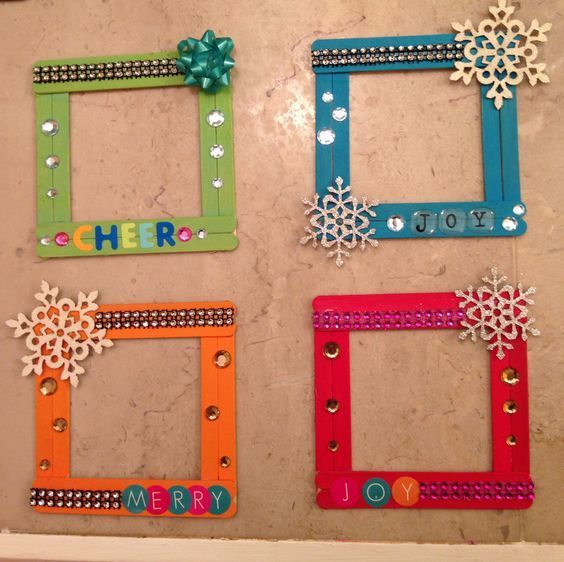 This unique way of decorating popsicle stick frames was found here.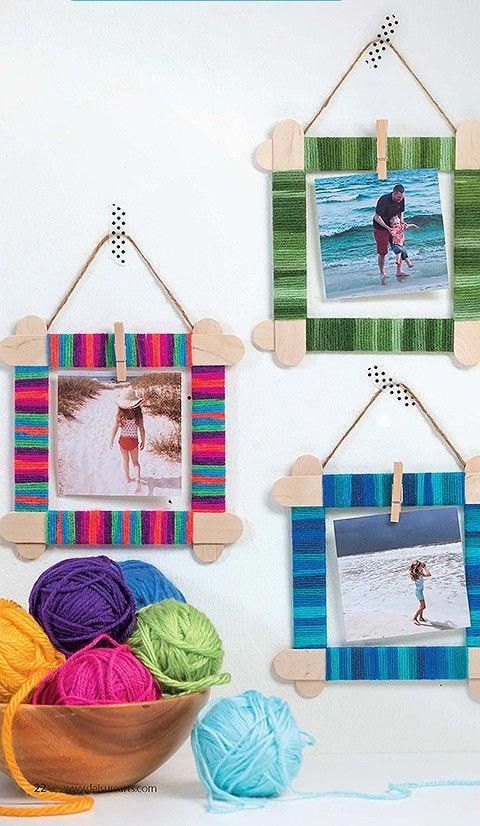 If you are out of paints, or washi tapes even then here is another unique way of decorating your DIY popsicle stick photoframes.
Found this cute popsicle stick photoframe here.
Or just with using coloured paper cutouts or foam cutouts, this is one way of decorating your DIY photoframes.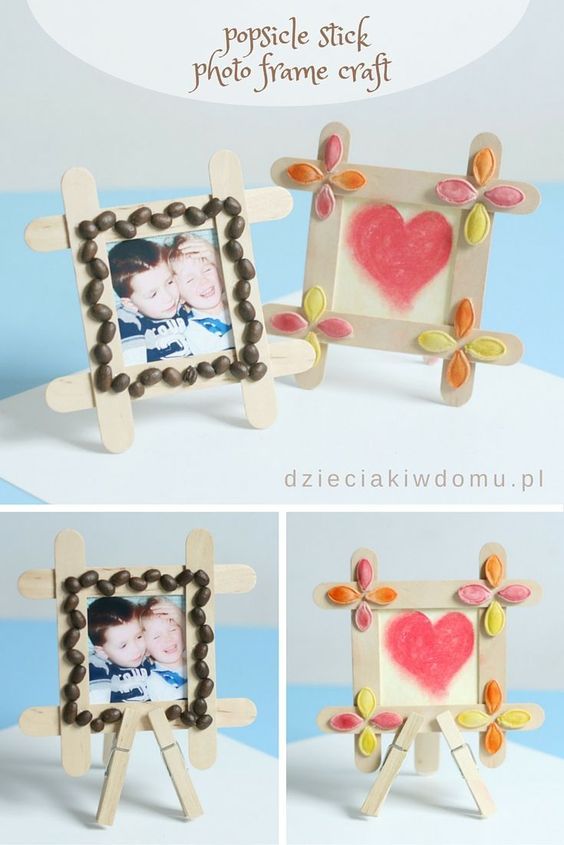 Or even brilliant way of decorating photoframes when kitchen comes to rescue. Using pumpkin seeds and coffee beans, kidney beans one can decorate their photoframes. And using the clothespin as stand.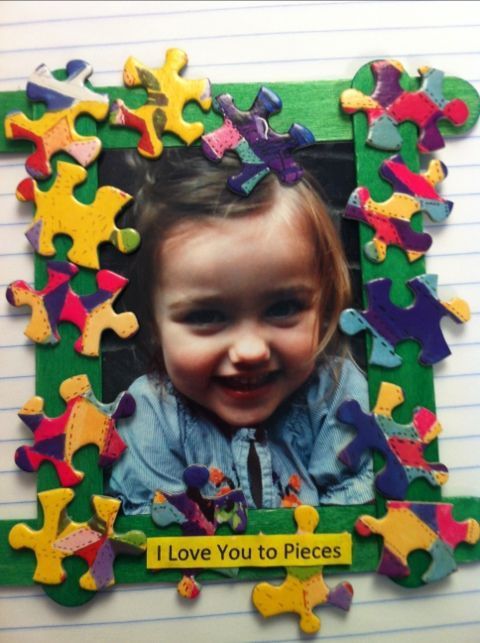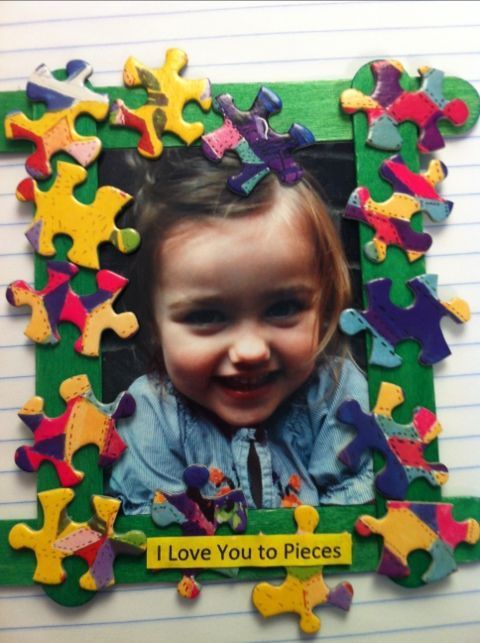 Found here is another cute was to make a photoframe along with a lovely message.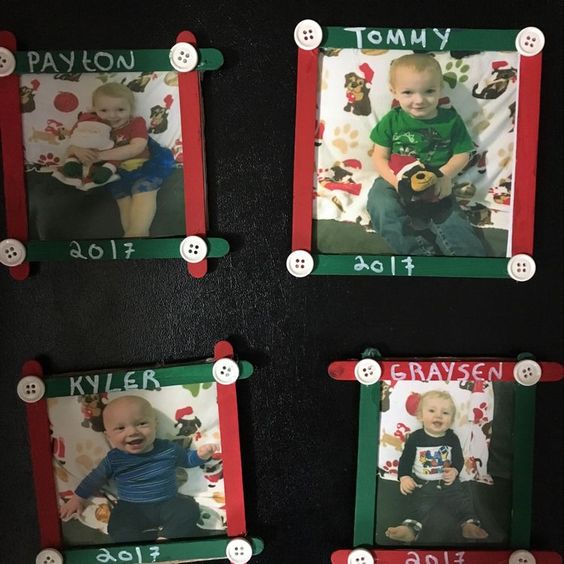 A brilliant way of portraying kids photos year wise was found here.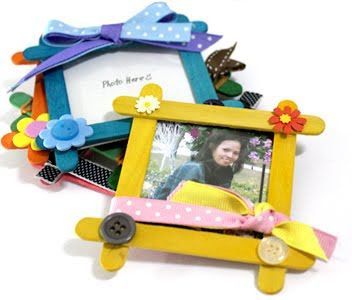 Some more cute ways of decorating popsicle stick photoframes can be found here.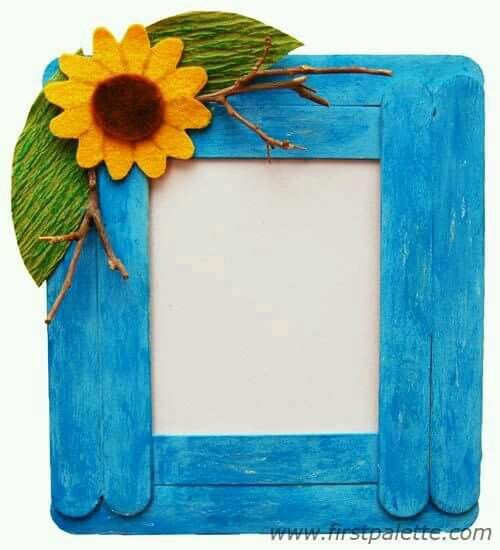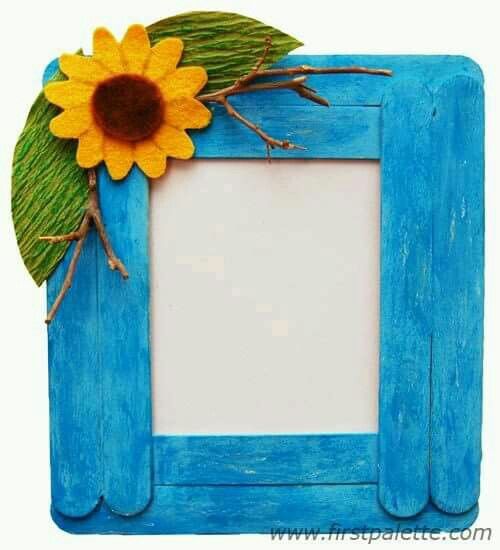 Another nice way of making a beautiful photoframe can be seen above.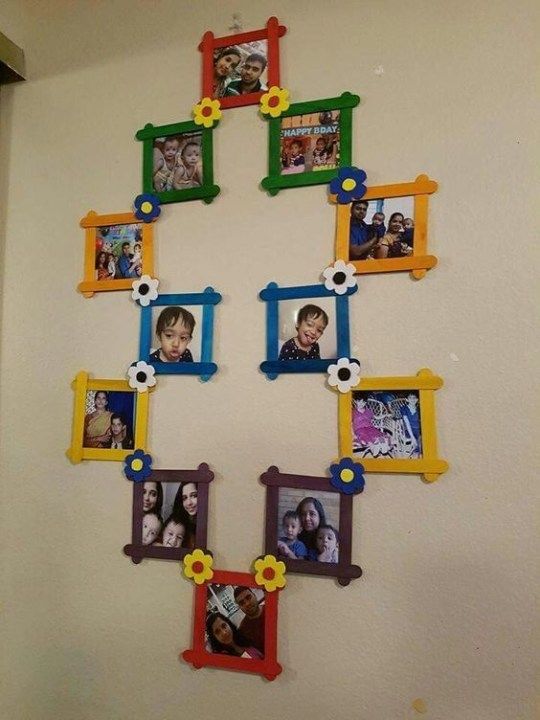 What a brilliant way of putting all your family photographs on the wall.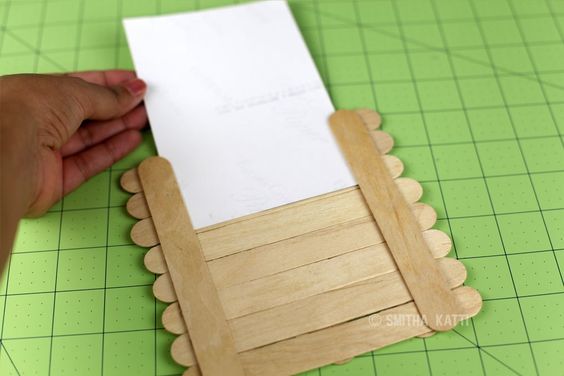 Here's a pretty DIY gift for grandparents made by kids on grandparents day. Step by step instruction for making this popsicle stick photoframe can be found here.
Another nice idea for popsicle stick photoframe was found here.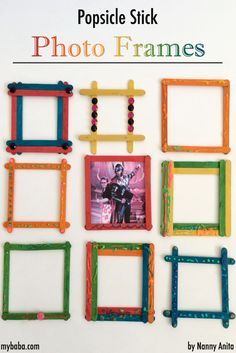 Some nice ideas for popsicle stick photoframes are collated here.
A few more ideas of basic layouts of the photoframes can be seen here.
Another interesting popsicle stick frames definitely made by kids were found here with step by step instructions.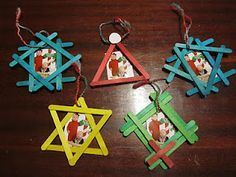 Another very interesting set of layouts of popsicle stick photoframes were found here.
Coasters
I believe the easiest craft which also forms a fantastic DIY home decor with popsicle sticks would definitely be coasters.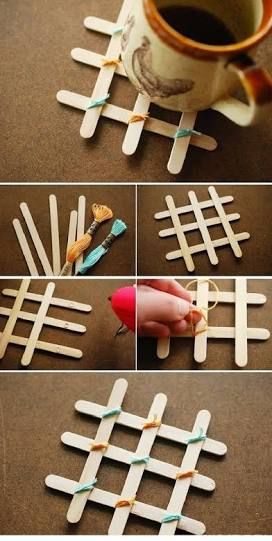 Pic Source: inspirational-idei
The above pic is quite self-explanatory here. Just with some glue, embroidey threads and popsicle sticks, a tic-tac-toe coaster can be created.
Pic Source: WashiTape Popsicle Stick Coasters
Here you can find a step-by-step instruction to make these coasters.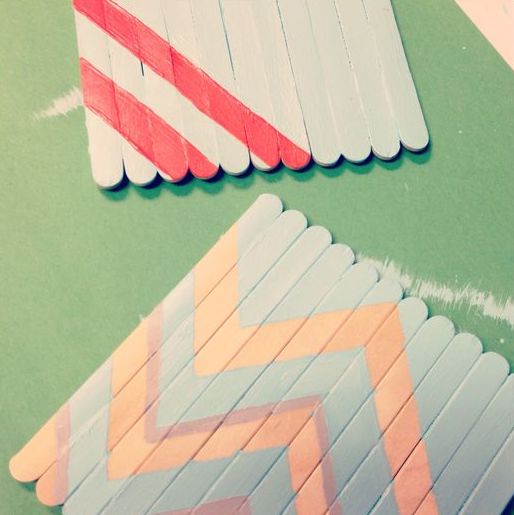 Pic Source: Snapguide
A unique way to make and paint the popsicle coasters with ease is shown here.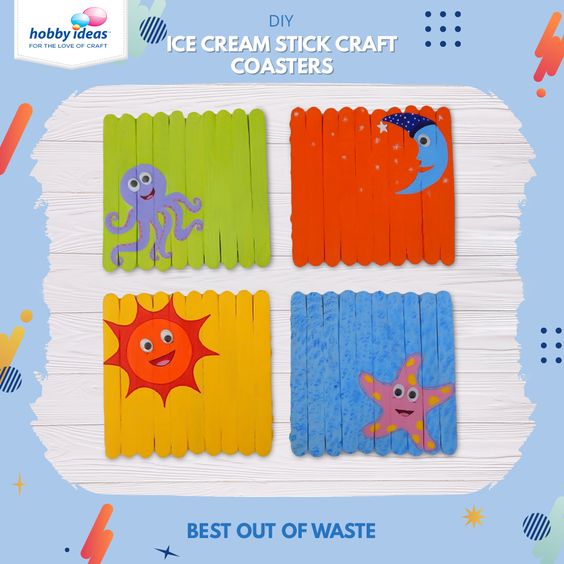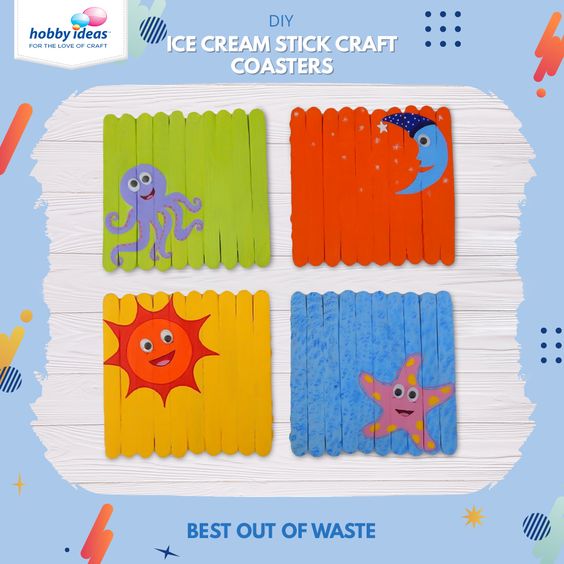 Pic Source: Hobby Ideas
And of course, how can we miss something from Hobby Ideas. So, here it is. Fantastic eye catchy paintings on popsicle stick coasters.
Pic Source: Pinterest
Few more ideas for decorating your popsicle stick coasters in the easy-peasy washi-tape way.