So, today I gave my little Trayaksh (a.k.a Coco) these colourful cutouts of different basic shapes I had from my last year's kids math craft's workshop and asked him what does he want to make out of them? He answered – "a Castle".
Our Castle
So, here we are with our glittery Castle using all kinds of basic shapes.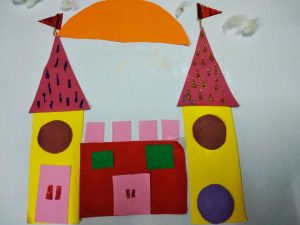 Using basic shapes these are some fun activities which we can make our toddlers do and unleash their creativity.
Trust me you will be surprised to see what they can do and what their little super minds are capable of. I was taken aback when my son asked to put clouds with cotton and when he asked me to put glue lines on the tower of the castle for decoration.
…and some more Castles
Here are few other imaginations of kids for castles just using basic shapes.
Pictures Credit:
Castle 1, Castle 2, Castle 3,Castle 4,Castle 5,Castle 6
Want to create you own?
Now, I have created these free downloadable printables which you may find interesting to try your hand at. The different shapes to be cut out are given in all the printables along with the templates which the kids will have to build.
1 – Animals with Shapes
You can go ahead and make some real cute animals with your little one.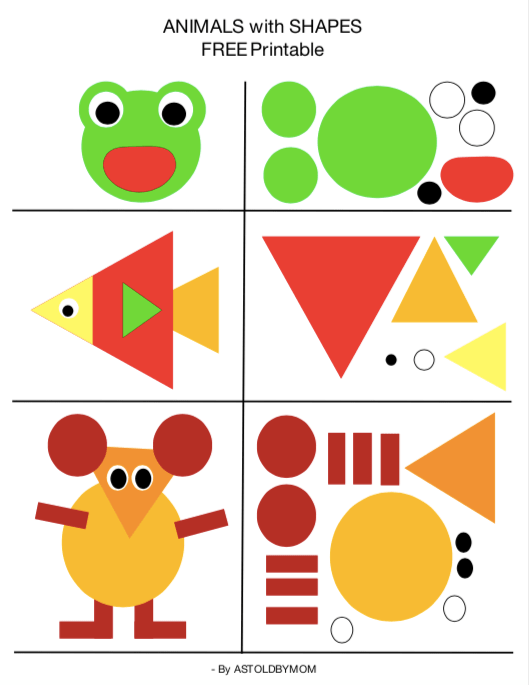 The Animals with Shapes free printable can be downloaded here.
A step-by-step instruction for this particular Animal with Cut and Paste Shapes is available at this page.
Buy My Printable
2 – Transport Vehicles with Shapes
Or you can try to build some transport vehicles.
The Vehicles with Shapes printable pdf file is available here.
3 – Rocket with Shapes
Or how about an exciting Rocket using simple shapes.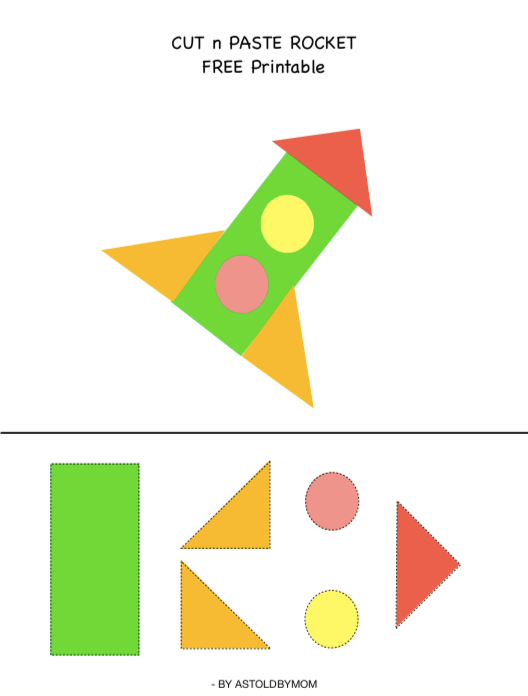 The free printable Rocket with Shapes can be downloaded here.
Download Printable – Shape Craft Animal
I have created these "Cut and Paste Shape Craft Animals" printables which will help our kids to learn, recognise and analyse different colours and shapes.
Why we should use these printables?
It will help our kids to:
Learn colours
Learn all basic shapes
Learn about animals
Enhance their thinking capacity
Enhance their creativity
Build their cognitive skills
And above all children LOVE Cut and Paste activities.
If you are a parent of a child of age 2-14 , worrying about his/her reading habits, you must watch this video.
All The Best
So go ahead and have fun with your little one.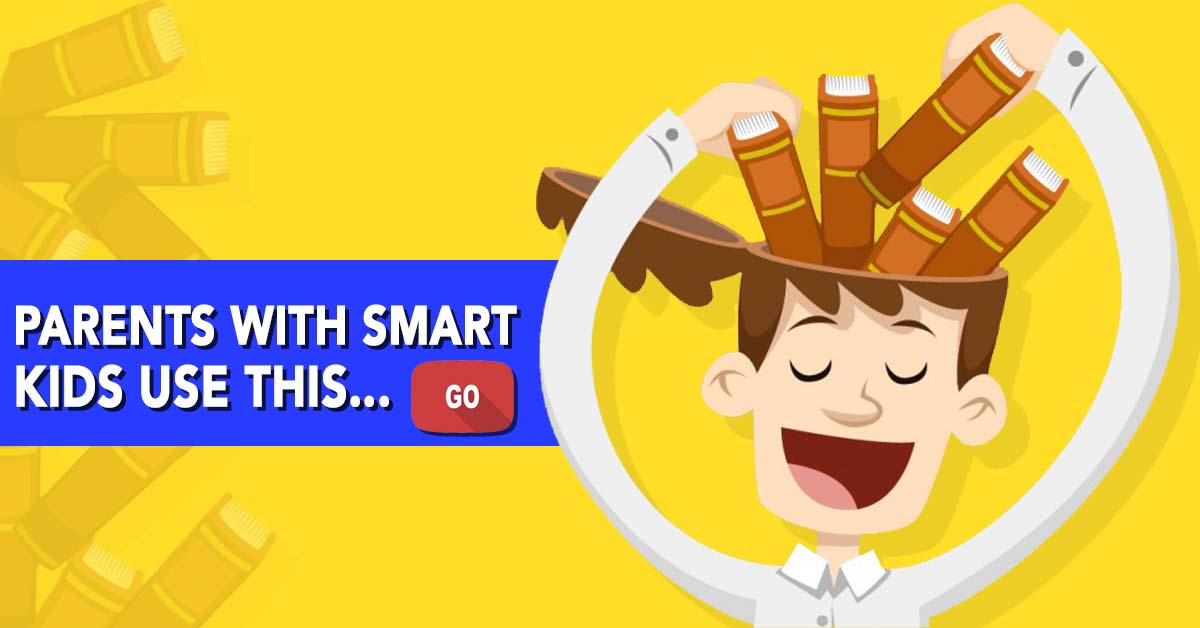 As a parent, I'm pretty sure this directly affects YOU... It's a new video that shows you just how bad our children are reading their first few years in school and what you can do with your child right now to easily have them reading better than all other children their age This even works for children as young as 2, with zero knowledge of the alphabet whatsoever. Plus, you'll also see... How to have them excel at reading early even if they currently show zero interest. What NEVER to do if you want your child to succeed in school. Why everything you've ever learned about reading yourself as a child is now dead wrong, and what your child should be doing instead.
Give Your Child a Reading Head Start »