Just like my previous post of Cut and Paste Shape Puzzle – Bear. Here is a Cut and Paste Shape Puzzle of a Horse. This Horse has been made of 5 Circles, 2 Ovals, 12 Triangles and 5 Rectangles.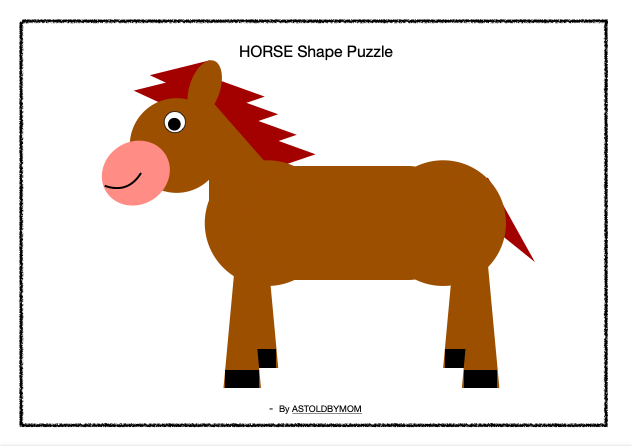 Level of Difficulty- DIFFICULT
What are Cut and Paste – Shape Crafts?
Shape's craft is a fun way of introducing shapes to kids. Using this easy craft, children can build their own animals using variety of shapes. Overlaying the shapes on one another or beside each other can result in a variety of amazing figures. With this DIY not only they understand shapes but also differentiate among variety of shapes and hence developing their cognitive and analytical skills.
What do these printable consists of?
These are awesome animal downloadable printables which one can easily take print on A4 sheets or a card stock and good to go. The printables consists of animal figures made with variety of colourful basic simple shapes.
All the bundled printables has 3-4 sheets to be printed. They consists of:
the colourful animal (to be used as hint for kids)- Sheet 1
silhouette of the animal figure- Sheet 2
the different shapes to be cut – Sheet 3 (and 4)
Note : The sheet 1 animal has to be used as reference only. It is a hint for the child if the child is stuck at some point.
What do you require?
Materials required:
Colour printer and A4 sheets or Card Stock
A pair of scissors
Glue [optional]
Base Paper / Chart [optional]
How to use the printable sheets?
Step 1 – Once purchased and downloaded, you can print these PDFs using any colour printer on A4 size sheets. These sheets and shapes are easy to be carried also.
Step 2 – With the help of a pair of scissors, now cut the shapes from sheet 3.
Step 3 – Once your kids are ready, explain them about this new challenging activity. You can say, "hey, today let's see how, with simple shapes of circles, triangles, squares and rectangles we will create amazing animals out of them."
Step 4 – Take Sheet 1 of any of your preferred set and now show it to your kid. In case if he/she is not aware of the animal, explain about this animal to him/her, may be examples he has seen or has heard in rhymes/songs/stories. [This will help kids to relate better].
Step 5 – Now give your kids Sheet 2, and ask them to place the cut shapes and match them with the dotted shapes and try to replicate the Sheet 1 figure.
Step 6 – Now whenever a child gets stuck somewhere, you can show him/her the original Sheet 1 picture again, and ask them to try again now.
Download Here
Download my template right here.
You can also check out my entire collection of Animals Shape CRAFTS right here.
ANIMAL - SHAPES CRAFT
This is a NO PREP activity. Everything needed is bundled for you. All you would need is a pair or Scissors.
Build your own animals with ease and confidence while LEARNING and USING the basic Shapes.
A Fun and Creative way because - Children loves animals and Children loves Shapes
————————————————————————————————————
Hope you and your kids enjoy this activity and have great fun and great time.
Please do share your experiences with this Puzzle craft activity.
Follow on Facebook: astoldbymom
Follow on Instagram: astoldbymom