Adding to the Shape Sorting Puzzle Activity of my store, today I have created this Penguin Shapes Sorting just like my previous Frog, Chicken, Reindeer and Snowman Shapes Sorting activities.
On the theme of Penguins, kids gonna surely love making them in different shapes.
What it consists?
So, I have made 11 different shapes using Penguin here, viz.:
Square
Rectangle
Oval
Triangle
Diamond
Pentagon
Hexagon
Trapezoid / Trapezium
Star
Heart
Circle
Here's a snapshot of how the Activity actually looks like.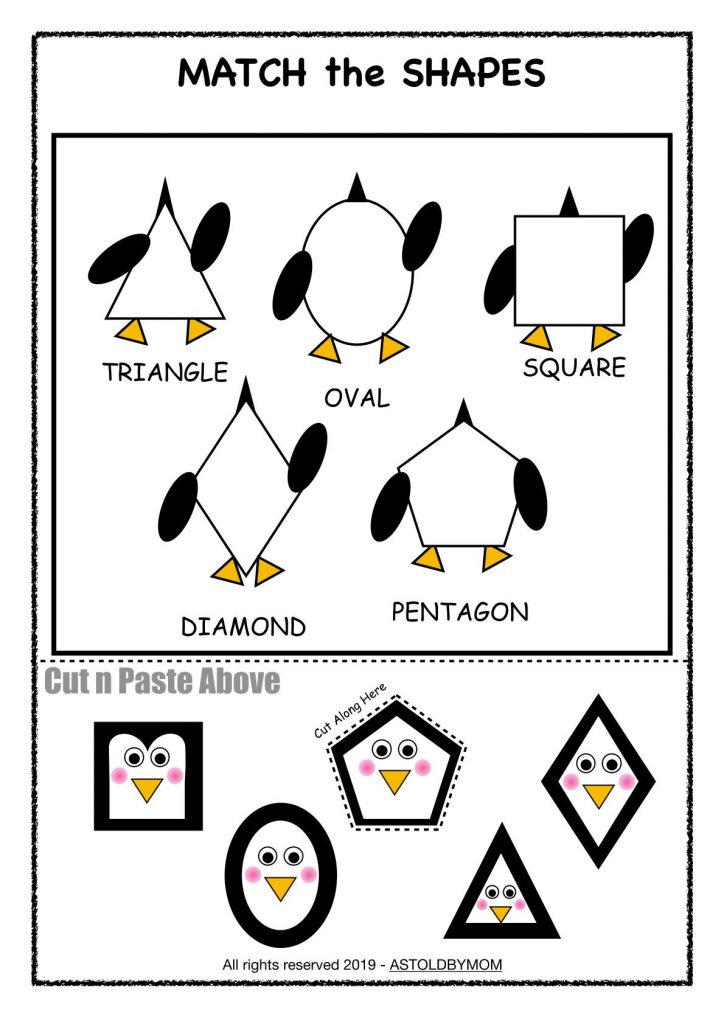 7 Activities Included:
>> Cut & Paste of all Shapes' Reindeers
>> Trace and Color
>> Clip Cards
>> Posters
>> Shape Crafts (Make your own Penguins)
>> Count the corners and sides of each shape
Preparation
First of all make sure you have software to open a pdf file in your system and download this Activity sheet here.
Step 1 – Get it printed. Would be great if you can get a color prints of it.
Step 2 – Lamination is preferable for its durability. (In case if you want to re-use the pieces)
Step 3 – As directed in the sheets, you can make the kids do different activities one at a time.
How to do?
Activity 1
The cut outs which are to be cut are given in the bottom half of the second sheet. Give the cut outs and the first half of the sheet to the students. [Laminate the sheet to improve its durability.]
Students will have to match and paste each Penguin to its corresponding figure to complete the figure. [In case the sheet is laminated you can use velcro dots].
The name of every shape is also written in capitals below it.
Activity 2
Trace the shapes – improves fine motor skills & finger movements
Color the shapes as given – improves reading & fine motor skills
Activity 3
Cut out the individual Clip Cards
Lamination is optional
Ask kids to identify the Shape of the Penguin shown on the card and Clip the right Shape
Activity 4
Use the Posters to hand around on the Activity Boards or make & give it away as a booklet.
Activity 5
Using the color & B&W cutouts, make your own Shape Penguins.
Download
You can buy this activity here.
Or….
Click the button below and get the activity directly or you can visit and buy it from our TeachersPayTeachers store.
Or you can buy the Smaller Version (Sorting and Posters only) of this Penguin Shapes Activity here.
Winter Math and Literacy Bundle
You might like to explore our Complete WINTER Activities Bundle too with 110 pages, 40+ math and literacy centers & fun activities. Click on this image to get this.
Or you can just Grab the FREE Winter Math Center here.
Shapes Homeschooling Kit
You may also like to check out this bundle which is a 6 Day Unit Plan for thoroughly understanding the shapes and mastering and learning all about the topic of Shapes. The kids will love this "Learn By Doing" approach.
In these sheets kids have to do matching and sorting, sometimes using colors sometimes through a cut and paste activity.
This Bundle includes:
A Teachers Guide
Lesson and Activity for 6 Days (D1L1, D1A1, D2L2,D2A2…..D6L6,D6A6)
Answers
The lesson plan in the Teacher's guide is just a reference. It is to be noted that the teacher can change and group the lessons and the activities together however he/she wishes, depending on their kids' interests and needs.
Hope you have fun with this Activity of Shapes here.
Would love to hear from you more.
Have a good day.